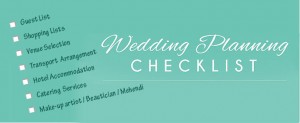 Getting married? Wedding in family? This must be one of the most important things in your life. It is believed that love or matrimonial alliance between two is arranged in the heavens. But that is the easy part. Niecy Nash had once famously said-"Falling in love was the easy part; planning a wedding-yikes!"
This wedding planning checklist will help you manage the wedding in a smooth way without unnecessary expenses and hassles due to poor planning and last minute frantic rush.
Your Guest List
The guest list is a key element of your wedding plan. You have to start early and discuss with all members of the family to make sure no one is left out. May be you already have an Excel sheet. You may even have the data in your Outlook or other contact managers.
Excel sheets are most popular with people managing the guest list, but these can turn very clumsy as soon as you make changes and add columns for events, gifts, arrivals, departures etc.
You will need to make separate lists or have columns for invitees to the different events like wedding, reception, cocktail parties and other theme parties. Then you will need to mark RSVPs based on their responses or your personal invites.
Shopping lists
Shopping for weddings is fun though extremely tiring and strenuous. If you don't make elaborate checklists and plan the budget for different categories like clothes, jewellery, accessories, furniture, gifts etc, you will end up spending much higher than your planned budget and may even have to forego some important items.
You should start your shopping as early as possible because several items have to be custom built and you will need to order them early to get delivery in time. Buy things available in the same area or mall together to avoid running from one place to another.
You will also need to list and buy samagri (items) for different wedding rituals to avoid last minute rush and inconvenience.
Venue Selection and Decoration
Selection of the venue for the engagement ceremony, wedding, reception and other parties is another difficult task. Most of the good and central venues get booked much in advance.
You need to shortlist venues based on the area, references, number of guests it can accommodate etc. Check if they have a covered and air-conditioned area if the event is during rainy or summer time. Spare rooms for the bride and family to get ready will also be needed.
It is important to check the overall cleanliness of the banquet hall as well as the area near the venue. Make sure they have clean washroom facilities also.
Some venue owners insist on their own empanelled decorators and caterers. This needs to be an important consideration before you register.
Transport arrangement
Transport of the wedding party from the residence to the venue needs to be comfortable or else you will arrive in crumpled dresses, full of sweat, cursing and not enjoying. Similarly, you should arrange ample transport for the outstation guests to ferry them from the airport and railway stations to the hotels where they will be put up.
This simple thing can make or break the satisfaction and excitement level of the guests.
Hotel Accommodation
The outstation guests need to be put in suitable hotels. You will really have to juggle the budget and facilities for this. This is an expense head that eats up lots of money with nothing much to show. If you have a good indication of the exact number of rooms you will need, you can negotiate a good rate with the hotel manager by referring to the total number of room-nights you will be confirming.
You will also need to station a hospitality team at the hotel lobby to guide the guests about the events. Some guests also want to visit the local attractions or shop around in the spare time. They will need to be guided well so that they can relax and enjoy more.
Complaints about inadequate facilities or lack of proper information can really embarrass you. The charts listing the rooms available and occupancy details undergo massive changes every minute and hour. You will need an efficient person to keep on top of this.
Catering Services
Most of the people will forgive you for other mistakes if you serve them good food. People talk about the great food and arrangements years after the event.
While many people get satisfied with an elaborate menu, dishes from matching and complementary cuisine can impress the guests a lot. You have to plan the menu with the caterer and your family keeping in mind the guest list.
Do you have people insisting on vegetarian or Jain items? You have to setup separate counters for them. Highlight the dish names and cuisine to help people to taste more items from your elaborate spread and relish them.
Don't forget that you will also need to plan for the food you serve at your residence or the place where you will stay. Your challenge will be to serve unique items every time and include at least a few new items to surprise and impress your guests.
Set up a few live counters based on your decided cuisine. Having one or two stalls exclusively for children is not a bad idea as they could keep them engaged and happy.
Make-up artist/beautician/mehendi artist
Mehendi is an important function in many Indian weddings. Get the best artists within your budget as poorly applied Mehendi can really put off the ladies and the girls. Enough make up staff to help get the guests ready will make them very excited.
The people helping the bride and groom get dressed up and made up will be separate and can't be shared with the other guests. Again booking these people in advance is vital as it will be hard to get good people at short notice.
Photographer/Videographer
Ah those beautiful moments! Don't you want to relive the exciting times again and again? Get the best photographer you can. Take references if you don't have fixed family photographers.
Ask them to show the previous work. Discuss the budget and deliverables well in advance and clearly. Pre-wedding shoots are important and need to be included in the scope of work.
For most of the contractors, an informal contract or at least a written scope of work is vital as you will really like to avoid controversies at a later stage.
I am sure you know of 100s of other tasks that you need to accomplish smoothly to see through the wedding in style without getting stressed. WedPlan wedding planning software helps you to stay on top with 24×7 access from anywhere, anytime. This comprehensive online software helps you manage all the logistics with a team-based working. Check out a FREE demo and experience the convenience!
Who needs outdated tools when you have the best wedding planning software to use!