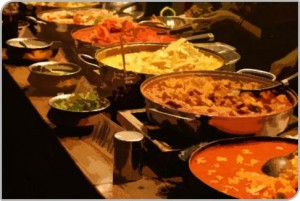 Are you trying to select a catering company for the upcoming wedding in family? The choice of the right caterer is one of the most important choices you need to make. Your relatives will at least talk about the food, if nothing else. Good food and dining experience will make say all the positive things about your event.
Select your caterer
Several venues have their own empanelled caterers and you need to select one from those only. Other venues allow you to bring your own favourite team. Depending on recommendations from your friends and relatives and your own past experience, you can shortlist 1-2 companies.
I know of one catering company which specializes in continental and other international cuisine but won't do a great job on the North Indian menu. Another company serves awesome vegetarian food but does not offer non-veg items.
When you are finalizing the menu, you will need to be slightly creative. Being a foodie helps. A tweak here and a tweak there and you have your signature dish that everyone will remember from the wedding. May be you will just change the topping or add a touch of some herbs. Recently we created the basket for the kachori chaat with the jalebi (without dipping it in the sugar syrup) and it was liked a lot by people. Just a touch of creativity can do wonders in this department.
Usually a couple of live counters are included where some amount of customization is possible. Currently live counters are quite popular among the guests and several guests take their full fill from these counters also.
Are you expecting lots of children? Keep in mind that even fantastic gourmet food may not make them happy. Make sure you have interesting items like snow cones or a jelly bean counter to cater to the tots. It is a simple and inexpensive addition but will keep them busy.
However, there should be good connect between all items on your menu. I have seen many people choosing starters from one cuisine and the main course from another. Though it may sometimes click, it is generally a bad idea.
The palate pleaser would be a starter which preps for the main course. The soup should be in line with what is coming up next. A theme which binds your menu tight is a great idea and creates a great experience for the guest.
How much does it cost?
Generally catering companies charge you on per-plate basis though some will do it on fixed contract also with the maximum number of people specified. Even for per-plate, you need to guarantee a minimum number of plates. There may be separate charges for high tea. The charges vary with the number and type of moving snacks and drinks. You can easily expect to pay anywhere from Rs 500 to Rs 3000 per plate based on the spread.
For most of the people, adding a few more items won't change the price much as the total amount of food consumed won't change. There may be extra charge for drinks based on the type of drinks being served. Several caterers allow you to bring your hard drinks which they serve at the venue.
Good food needs great service
The way the food is served is as important as the food itself, therefore a little personalization or innovation works wonders. It may be a good idea to discuss with your caterer how he plans to make the finger food different from what it looks like in general. When the guests are intrigued and are asking questions about what it is, followed by how awesome it tastes, a great foodie experience has already begun.
You should also check the quality of cutlery, the chafing dishes, the quality of service, the dresses of butlers etc. Great food served in scratched and old cutlery can spoil your show. A good caterer is expected to have good signature cutlery and less used crockery if you are paying him well.
It may be a good idea to include ingredient warnings on the dish tags – such as contains peanuts, or mushrooms or raw seafood so that the guests who may have some common allergies would know what to avoid.
For the seated dinner, the details assume another dimension altogether. The linen & serving style has to be perfect. A family person can accompany the bearer for personal effect. Before the main dinner time starts, the starters and drinks should be continuously taken around.
The housekeeping facilities and staffing should be adequate for a good dining and after dining experience. The used dishes should be promptly removed, any spills quickly taken care of, the washrooms must be spic and span. The décor, ambience, flowers, lighting, service and food should be in tune.
Have a joint meeting with all service providers involved to ensure everyone understands each other. Working with a team which has worked together in past events works wonders.
Here's a quick recap:
Select caterers based on a history of satisfied clients / empanelment.
Taste the food.
Discuss new menu ideas.
Check presentation and service.
Ensure quality crockery and cutlery.
Check linen and seating arrangement.
Tag dishes with ingredient mentions.
Select menu with a theme.
Ensure total synergy between all service providers.
A wedding is an experience of a lifetime for the host and it is all worth it when the guests go back happy and satisfied. So plan well and execute well. Cheers!