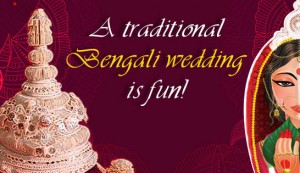 Those of you who have had the good fortune of witnessing a Bengali wedding from the start to the end would surely agree that it is a visual delight. Bengali Hindu weddings like most other Indian weddings are a blend of traditional customs and rituals with a touch of modernity.
These weddings are full of color and vivacity. Also a marriage leads to reunion of family members and old friends. New relations are made and old ones get further strengthened. In a way, a marriage signifies the beginning of a new journey not just for the couple but for the entire clan.
Bengali weddings usually are not opulent (although flashy or gaudy are probably more apt words!) but require elaborate preparations to perform the many rituals with precision. Sometimes it could also be physically demanding.
For hassle free planning and management of Bengali weddings, check out WedPlan.
Let me walk you through some of the common rituals and traditional ceremonies we see in Bengali weddings.
Continue reading