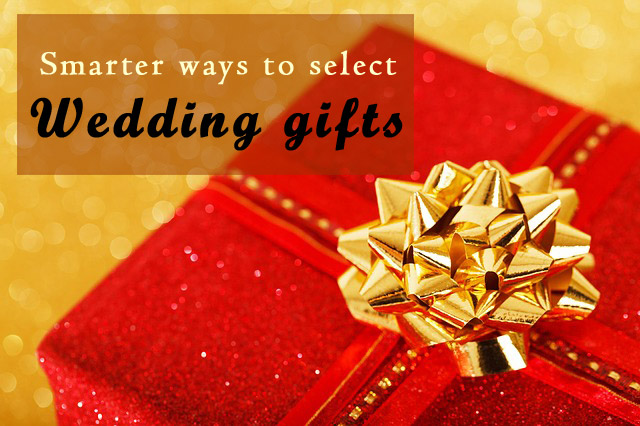 Gifts are a very important part of every wedding. Choosing appropriate gifts is a big challenge. Will they like it? And the gifts impact the wedding budget too. Here's how you can choose your gifts in a smarter way:
1. Categorize your guest list
Create separate lists for your guests and the guests of the other party. Within these lists, again divide your guests into paternal side, maternal side, immediate family, extended family etc.
Dividing the guest list given by the other party into categories is also very crucial. It is advisable that you have a detailed discussion about the gifts that they expect for their immediate family members and extended family and friends.
This exercise is important because you may want to give better gifts to your close relatives. This relationship will get reflected on the budget you prepare for each category. For e.g. the groom's gift will not be same as the gifts for his extended family. Right?
2. Budget for gifts
Now that you have a well defined and categorized guest list, let's move to budgeting – the next most important part. You need to apply the bottom up approach here.
The budget for each gift will differ according to the relationship you have with the guests. Accordingly assign / re-allocate the amount you want to spend on each member.
Now add up the amounts for all of them and see where you stand.
You can dance with joy if this is within your mental budget for gifts. However most of the times, you will be shocked at the figure and will need to revisit the details to cut down on some.
This is an iterative process. Reduce the amount for some people where you can and add up again. Within limit? No? Rinse and repeat.
3. Decide the types of gifts
Your gifts could be flashy, utility based or asset based. The general trend of Indian weddings is gold or silver gifts (assets!). But it is a matter of your personal choice. However, take your decision before you start shopping for gifts.
Indecision can turn out to be expensive and time taking. When you are not sure, you will end up buying what the salesperson convinces you to buy, which may not always be the thing you had on your mind.
A gift certificate or even cash may be the right thing if the amount is small or you will like them to buy things they like.
4. Pick gifts with care, if they depend on personal opinion
Your taste in clothes and accessories may not match that of your guests. You may like flashy and modern dresses, whereas the guest may prefer conservative designs. It is advisable that such gifts be avoided. What's the use of spending so much if your guest does not like it?
If the person in question is a close family member or a friend, you can always ask them what they would prefer to get. Guests could opt for cash, a utility item they need or even go shopping with you (if they are very closely attached with you).
5. Get the best out of the salesperson
If you go shopping with an indecisive mind, the salespeople will show you run off the mill stuff. Guaranteed! They will try to sell you items which have a higher margin for them or things which are not moving at all to get rid of them.
You will have to really grill and prod the salesperson attending you to get the best out of him / her. If they show you showy gift items but you want utility, be clear with them about your requirement. Help them understand your exact need. Give them a proper brief and be generous with your reviews and opinions to help him recommend well.
Gifts, like every other thing you do for a wedding, are very important. If the guests like your gifts, they may remember you with a nice, warm feeling for a long time or they may end up criticizing you for the poor and thoughtless taste.
Make sure you make the right choices. Happy shopping!