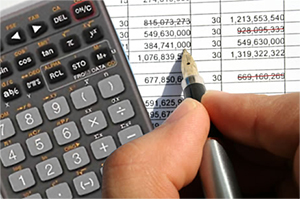 Having a wedding in the family? Finding it difficult to balance the budget? We all do. Whether you have a budget of 2 crores or 20 lakhs, you need to manage it well. Else, you won't even realize when it skyrockets out of your hand.
Here are a few ways in which you can keep your budget from exceeding the tolerable limit:
1. Divide your budget broadly into the most important categories
You can divide your total budget into different broad heads like reception, jewellery, clothing, cosmetics and guests' gifts.
Then you can drill down and plan details of each of these heads. e.g. for the reception expenses, you can break this into heads like venue, decoration, catering and entertainment functions.
2. Balance your budget
It might so happen that you end up spending more than your stipulated budget in some places. That's okay. As long as it not ridiculous and unjustified, you can and should allow yourself the leeway. But then you should also know where to draw the line and where to cut down.
For e.g. if you end up spending more on your wedding attire (because you just had to get this one), you should probably buy fewer shoes or less expensive ethnic wear (sarees, suits etc). Or decide which the other things are where you can make a trade-off.
Similarly, if you decide to arrange for a variety of cuisines for the menu, you may want to be less generous with the decoration. You can probably have fewer flowers in areas where guests are less likely to notice them (say – behind the food table).
This decision will depend heavily on your situation. Talking to people with work experience (default wedding managers of their families) can help you in this case.
3. Prioritize your expenses
You want the best of everything for the wedding. But if you don't have your priorities in place, you will end up over shooting your budget on the wrong items. But the question is – how do you prioritize?
If you are fonder of jewellery than clothes, you may splurge on your wedding ornaments. Buy fewer clothes but get that stunning diamond neckpiece. And if you are a clothes fan, you can have a wardrobe full. But then you will have to go with fewer accessories. Or a lighter necklace.
A trade off has to be made somewhere. Weddings are about being happy. So, decide on the things that you have always wanted in your dream wedding and spend a little extra on them. But also decide on the things you can live without. Else – be prepared for a roaring and soaring, out of control budget.
4. Keep a buffer for miscellaneous expenses
On the D-day, unplanned expenses often come up. A thousand things have to be taken care of. Imagine a whole carton of necessities going amiss during transportation, or you having to relocate due to sudden rains. Be mentally & financially prepared to handle such crisis situations.
Because these things might happen in any wedding. Keeping an amount aside for these miscellaneous needs would be a safe bet. If, by any great stroke of good ideas you end up saving in some departments, you should allocate those extra funds to your buffer account.
Barring a few exceptional people, we all want to stick to our one big number irrespective of the size of our budget. And we can! But it takes meticulous, detailed, beforehand planning to achieve that. So, please plan.
5. Reduce the pressure on your budget by starting preparations much earlier
We discussed in an earlier post how you can shop for your wedding in a smarter way. Here's something you can do to also ensure that you buy everything you need without putting much pressure on your wedding budget.
You know you will marry some day. Why not start collecting things that you know you will anyway need (if you haven't started already). Your wedding attire and other apparel may need to be trendy and therefore you can only buy these a few days before the wedding day.
But you can always start stocking up your furnishing, hosiery and other fashion independent items much before you start your actual wedding preparations.This proactive approach to wedding shopping will give the much needed breather to your budget.
After fixing the date, when you sit to plan, you will realize that a big chunk of your shopping has been already done! How amazing is that?
Weddings are not an easy affair. A lot of scrupulous planning goes behind the fun and frolic. And sticking to your budget is perhaps the most difficult of them all. And the most important.
Plan well to pull it off well!