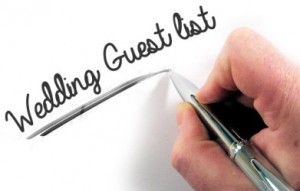 Getting married? Congrats! The first thing to do after fixing your wedding date is to prepare a tentative guest list.
Combine your guest list with your fiancé's (or fiancee's) and arrive at an estimate for number of guests. Because this figure is crucial to shortlist the tentative venues.
We understand that arriving at an accurate number is never possible. In India, our guests don't believe much in RSVP 🙂 But an estimate will lead to two very important next-levels of wedding management:
1. Selecting a proper venue which can accommodate all your guests.
2. Arranging for catering, gifts and accommodation.
You cannot start without it. But you may ask – what if the numbers change drastically? Fair enough. Here's what you can do. Add leeway to your tentative number and look for a venue that has slightly higher capacity than you need.
Managing weddings are not a piece of cake. Managing guests – certainly not. And the best way to be prepared for them is to know how many would be there. Brace yourself!